Reducing Your Risk from Flooding: Resources for Residents
When it comes to reducing the risk from flooding in your community, everyone has a role. Make sure you understand what the flood risk is for your property and the best ways to protect it and your loved ones from flooding now and in the future using the information below. After you've taken steps to reduce your flood risk, share your story so others can learn from your experience.
Know Your Flood Risk
First, make sure you understand the risk from flooding for your property. You can look up your flood risk by address using the "What is my BFE?" tool. This tool lets you compare the most recent FEMA flood hazard information for your property with information from the current effective Flood Insurance Rate Map.
Have a Plan for the Next Flood
Make sure you have a plan and supplies in place for when a flood happens. New York City residents can find information about how to prepare for a flood on the Ready New York website. New Jersey residents can get more information from the New Jersey Office of Emergency Management.
Buy Flood Insurance
Visit FloodSmart.gov or contact your insurance agent to find out more about flood insurance. Remember that flooding can happen anywhere it rains – Preferred Risk Policies are available at a discounted rate for properties not located in a high risk flood zone. You may also want to read about recent flood insurance reform legislation and how it affects certain policyholders.
Make Changes to your Property
Consider making changes to your home or business to protect it against future floods. Learn about retrofitting measures you can take and best practices for construction in coastal areas using the resources below.
Protecting your home from flooding doesn't have to cost a lot of money. Here are examples of some simple changes that can make a
big difference.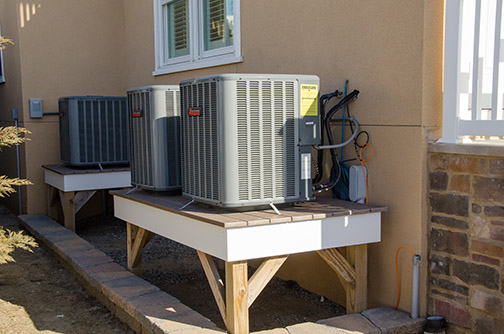 Heating and air conditioning units elevated above the Base Flood Elevation
Remember, before making changes to your property, contact your community officials to make sure you understand any building and permitting requirements that will apply. They can also provide information about federal and state grants and funding which may be available to help you too.
New York Resources
New Jersey Resources
Check with your local officials for other resources that apply for your community.